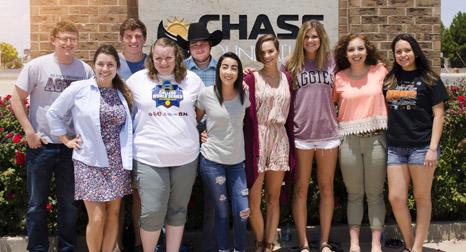 Chase scholars giving back through community projects
In following the tradition of the Chase Family of giving back to communities, the 2016 Chase scholars are preparing for orientation and the community service initiative June 20-24.
During the community service initiative, the scholars will perform more than 200 community projects for senior citizens, the Artesia MealSite, San Pedro Nursing and Rehabilitation Center, Artesia Clean & Beautiful, the Navajo Nature Trail, and many others.
The projects will include washing windows, yard work, and hauling off trash.
The 2016 Chase scholars will consist of 11 teams who will be assigned specific projects in the community they will complete during the week. Each team will have a current Chase scholar as their team leader.
This year's team leaders include Taylor Richardson, Bryce Bowerman, Kendyl Artrip, Joli Smith, Mariah Chee, Alexis Aguirre, Sarah Solano, Vanessa Lopez, Jenna Elkins, Savannah Boling and Grant Duff.
The Class of 2016 is the 10th graduating class of Artesia High School to receive the Chase Scholarship. From 2007 through 2016, the Chase Family has awarded more than 1,100 scholarships to AHS seniors, committing $11.3 million dollars to the scholarship program.
Additional sponsors participating in the Chase scholars' community service project include the Artesia Downtown Lions Club, Navajo Refining, Artesia Trailblazers, Rotary Club, Concho Resources, Fenn's Country Market, and Trinity Temple Assembly of God.
There are a limited number of time slots still available for those needing projects completed. Pick up and fill out a form, available at the Senior Center, or contact the Chase Foundation at 746-4610.
News link